Korkki Nordic: Trails
Trail Map
Korkki Nordic boasts 11k of the most beautiful and challenging trails in the Duluth area.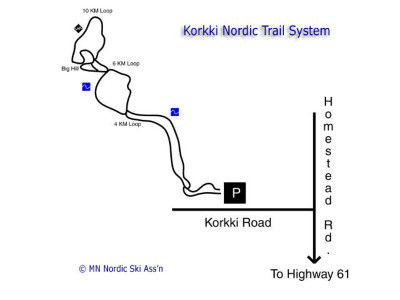 Click on the map for a PDF version.
Please remember that your membership dues support our mission, including trail maintenance, grooming, operating expenses and ski programs at area schools.
A Skier's Guide to Korkki Nordic's Trail Signs
by Sam Cook
The following is a Guide to Korkki Nordic's Trail Signs. Most of these names were bestowed by either the late Charlie Banks, co-founder of Korkki Nordic, or Mark Helmer, who still calls himself the Assistant Chief of Trail. The signs are listed in roughly the order you'll encounter them as you ski the trail.
Dorothy's Loop: Named for Dorothy Banks, Charlie's wife. Dorothy didn't like skiing hills, so Charlie made a 1-kilometer loop without hills for Dorothy.
Mike's Crossing: This creek crossing is named for Mike Gunsolus, an early Korkki skier who donated lumber for bridges and platforms across the trail's low, wet places.
Bryan's Loop: Named for Bryan Paulson, this sign denotes the beginning of the 5-kilometer back loop at Korkki. Bryan, a good friend of Mark and Charlie's, died far too young during a bicycle race. He loved to ski at Korkki.
Elizabeth's Way: This short cut-across trail from the upbound portion to the downbound portion is named for Elizabeth Holliday, wife of Mark Helmer. One cold and rainy November day, Mark enlisted Liz' help to cut this trail when Charlie was in the hospital with heart problems. Charlie knew he would no longer be able to ski the steep downhills on the more distant reaches of the trail, and he had asked Helmer to make him a shortcut.
Salmela's Curve: This sharp left turn was the scene of a legendary skier pile-up many years ago involving Chad Salmela of Duluth, Brucie Hannula of Houghton, Michigan, Roger Pekuri of Ely and Mark Helmer. Salmela apparently took too much momentum into the curve and lost it at the corner. Hannula and Pekuri, close behind, crashed on top of Salmela. Helmer maintains to this day that he avoided falling.
Erkki's Hills: Named for the late Erkki Harju of Two Harbors, a legend among area skiers. This two-step ascent requires nearly all skiers to herringbone in order to make the climb. Not Erkki. With his powerful upper body, he often powered up these hills without having to herringbone.
Geno's Crossing: The late Gene Marsolek, an excellent skier and friend of Korkki, died in 2003 while piloting his stunt plane. His wife, JoAnn Hanowski, one of Duluth's top skiers, made a donation to Korkki in honor of Geno after his death. Part of that money was used to build the platforms that allow skiers to cross this swampy spot in the trail.
Danny's Duck Pond: Korkki friend and trail groomer Danny Tanner once skied the trail to this pond carrying a large pack loaded with two wood duck nesting boxes and the tools to mount them.
Wolf Kill Ridge: One day long ago, Charlie and Helmer were skiing the trail together and came upon this location where a wolf had killed a deer. It overlooks a drainage on the left and a beaver pond on the right.
Johan's Gate to Heaven: One day after a good snow, Helmer encountered Dr. Johan Bakken at this point in the trail, where a snow-laden maple tree was bent over the trail in a beautiful arc. "Look," Bakken told Helmer. "Just like a gate to heaven."
Cook's Fall: Charlie and Mark Helmer were grooming this rollercoaster section of the trail one day after a snowfall. They had stopped at the base of the hill to adjust the groomer just before Sam Cook of Duluth came zipping down the hill. Cook narrowly missed the groomer and plowed face-first into the deep snow along the trail.
Frybergers' Curve: Jerry and Bob Fryberger of Duluth are long-time friends of Korkki. It was late in the day when these twins came upon this hard left turn in the trail. Details are sketchy, but one of the twins left the trail and piled into the snow, the other landing atop him. "Get up. I think I broke my leg," one said. "No you didn't," the other replied. They got up, brushed as much snow as they could from their wool clothing and pressed on to the chalet. No bones were broken.
Dirk's Curve: Named for Dick Clark, whose nickname is Dirk, this tricky little left-hand curve comes after a gentle downhill and requires some nimble footwork. As the story goes, Clark once missed the corner and ended up hugging a maple tree where he stopped. "We've since taken that tree out," Helmer said.
Frank's Rest: Frank Gulbrandsen of Clover Valley has always liked this spot along the trail. He told Helmer one day, "When I die, you can put my ashes in this spot."
Marty's Rest: This spot is marked by a sitting bench that Marty Heimer of Clover Valley built just before the ascent to the top of Iso Maki, or the Big Hill. Heimer often stops there to rest before continuing up the trail.
Iso Maki: "Iso Maki" means "big hill" in Finnish. If you've been to the top, you understand.
Tanner's Hole: At this place where the trail kisses the Little Knife River, long-time groomer and Korkki friend Danny Tanner once had the Ski Doo Alpine and the groomer slide off the trail and drop about three feet down to the frozen river. It took some serious shoveling and ramp-building to get the machine back on the trail.

© 2015 Korkki Nordic Ski Center